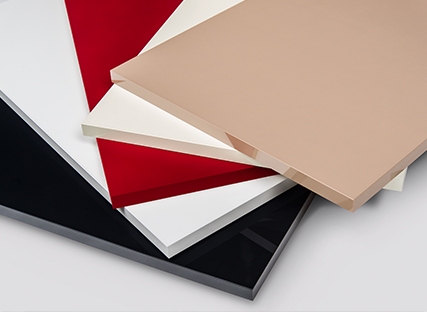 Vision Acrylic panels are made with Senosan® AM1800TopX high gloss lacquered acrylic films. With their unmistakeable surface and depth effect, they offer a gloss effect like no other material. They can be distinguished by enormous scratch resistance, UV resistance and environment friendly features. All products are exactly matched as required to their target group of furniture manufacturers, suppliers, laminators and designers. With the new quality of Vision Acrylic senosan® AM1800TopX, a new film with enormous scratch resistance has been developed.
Vision Acrylic panels are used in the kitchens, bathrooms, living rooms, bedrooms, hotel furniture, office furniture, cabinet doors and wall linings. Its scratch resistance is higher than the standard acrylic panel. It has a glossy surface. It's resistant to water and moisture and easy to clean. By means of the protective layer created by using UV technology, the color and the glossiness of its patterns are preserved for many years as its brand-new appearance. Acrylic panels do not contain any carcinogenic or unhealthful substances.
Vision Acrylic Specifications
| | |
| --- | --- |
| Width x Length (mm) | 1220 x 2800 |
| Thickness (mm) | 18 |
| Surface | ACRYLIC |
| Panel | MDF |
| Edge Band | Acrylic (single color / double color), ABS |
Why Vision Acrylic Panels?
Excellent scratch resistance (scour resistant)
Enormous chemical resistance
No polishing of the surface after removal of protective film
Increased UV resistance
Environmentally-friendly features
For More Information